Tree Embroidery Pattern
Are you looking for a new DIY project that will have your friends and family "oohing" and "ahhing" over your crafting skills? Look no further than tree embroidery patterns! Not only are these patterns stunning works of art, but they also make for adorable decorations all year round. In this article, we'll explore five different tree embroidery patterns that are bound to bring some laughter and joy into your crafting sessions.
Evergreen Trees Free Hand Embroidery Pattern
First up is the beautiful Evergreen Trees Free Hand Embroidery Pattern by alivelyhope.com. This pattern features a group of evergreen trees, blanketed in snow. It's the perfect pattern to work on during the winter months, and will make for a cozy addition to your home decor.
Pro Tip:
Embroidery can be a bit tricky for beginners, especially when it comes to tight spaces like the tree branches on this pattern. Instead of trying to fit a large hoop around those small areas, consider investing in a set of smaller embroidery hoops specifically designed for those tricky spots. It will save you a lot of frustration (and hand cramps) in the long run.
Autumn Tree Hand Embroidery Pattern
If you're looking for a more colorful option, the Autumn Tree Hand Embroidery Pattern from Wandering Threads Embroidery is the perfect choice. With its warm autumnal hues and whimsical design, this pattern will add a touch of playfulness to any room.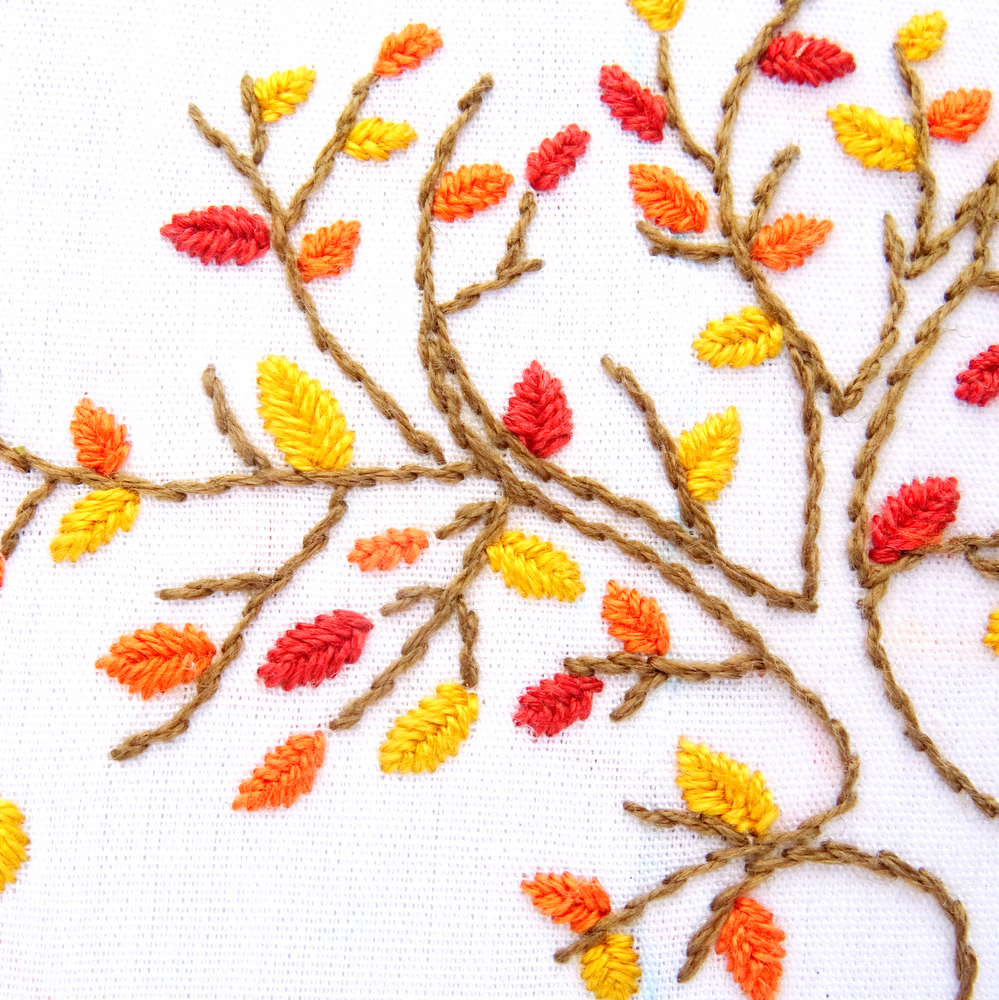 Pro Tip:
Not sure which colors to use for the leaves on your autumn tree? Take a walk outside and gather some fallen leaves. Take note of the colors and use them as inspiration for your embroidery project!
Decorated Christmas Tree Embroidery Design
Who says Christmas decorations are only for the holiday season? You can keep your love for the festive season going all year round with this Decorated Christmas Tree Embroidery Design. This pattern features a beautifully adorned Christmas tree, complete with presents and twinkling lights.
Pro Tip:
If you aren't a fan of the buttons and other embellishments on this pattern, feel free to leave them off. You can always add your own touches, like beads or sequins, to make it your own!
Firefly Tree Embroidery Pattern
The Firefly Tree Embroidery Pattern from Shiny Happy World is a whimsical and playful pattern that will add some magic to any room. With its bright colors and cute fireflies, this pattern is perfect for kids' rooms or nurseries.
Pro Tip:
Take your Firefly Tree to the next level by adding some glow-in-the-dark thread to the firefly bodies. It will make for a stunning nighttime display!
My Favorite Christmas Embroidery
Last but certainly not least, we have the My Favorite Christmas Embroidery pattern from somethingimade. This pattern features a whimsical Christmas tree adorned with all sorts of fun and festive decorations.
Pro Tip:
If you're feeling particularly playful, consider swapping out some of the decorations on this Christmas tree for ones that are personal to you and your family. Maybe add a tiny embroidery hoop or a miniature family photo to make it truly unique!
There you have it - five gorgeous tree embroidery patterns to bring some joy and laughter to your crafting sessions. Whether you're a seasoned pro or a beginner, these patterns are bound to be a hit. So gather your materials, put on some music, and get stitching!