Memorial Cross Stitch Patterns
Memorial cross stitch patterns are a beautiful and meaningful way to commemorate a loved one who has passed away. These patterns vary in design, but all offer a unique way to preserve the memory of someone special in a tangible form. Whether you're looking for a small project to remember a pet or a large piece to honor a veteran, there are countless options available.
Free Patterns to Get Started
If you're new to cross stitching, or just want to try out a memorial pattern before committing to a larger project, there are several free options available online. One popular option is the "Too Perfect for Earth" cross stitch, which features a colorful butterfly and the phrase "too perfect for earth." This pattern is simple enough for beginners but still offers a lovely tribute to a lost little one.
Another popular free pattern is the veteran's memorial cross stitch, which features an image of a soldier and the American flag. This pattern is a wonderful way to remember those who have served our country and made the ultimate sacrifice.
Purchased Patterns for Unique Designs
If you're looking for something more unique or personalized, there are many paid patterns available for purchase online. One option is a memorial ornament cross stitch pattern, which features a beautiful design with the words "Always in Our Hearts." This pattern is perfect for creating a beautiful and meaningful Christmas decoration or gift for someone who has lost a loved one.
Another unique option is the Remember Me Memorial Cross Stitch Pattern, which features a beautiful angel design and the words "Remember Me." This pattern is created by My Big Toe Designs and is available for purchase on Etsy.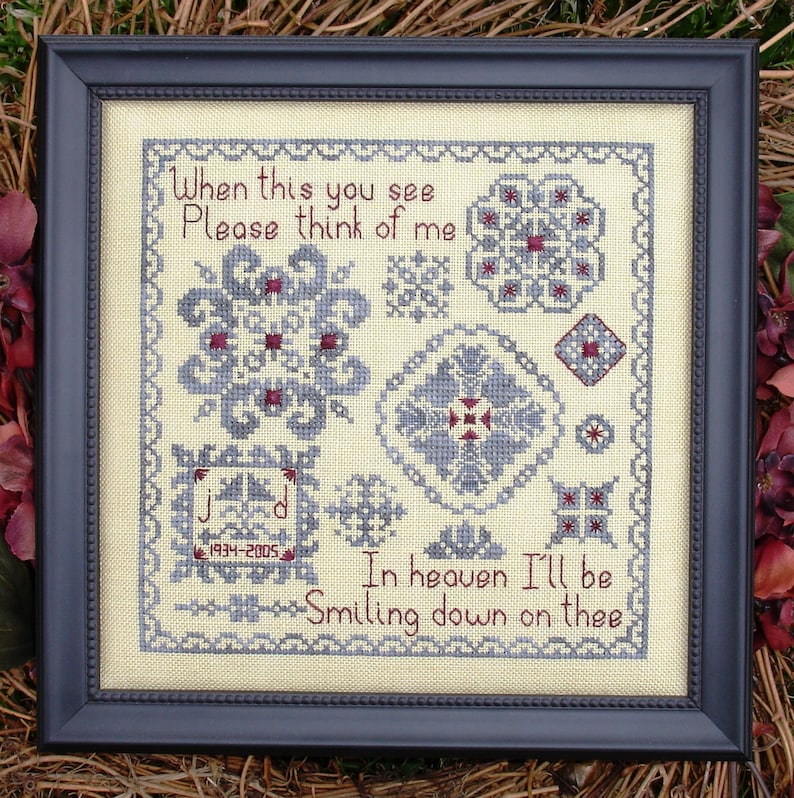 Creating a Personalized Piece
When creating a memorial cross stitch, there are many ways to personalize the piece and make it truly unique. One option is to add special touches, such as incorporating the loved one's favorite colors or adding a personal message. Another option is to use a photo-to-cross stitch service, which allows you to turn a favorite photo of your loved one into a beautiful and unique cross stitch pattern.
Choosing the Right Fabric and Thread
When starting a memorial cross stitch project, it's important to choose the right fabric and thread. The thread should be high quality and colorfast, as you don't want the colors to fade over time. The fabric should be appropriate for the size of the project, with smaller projects using finer fabric and larger projects using heavier fabric.
Adding Embellishments
Finally, adding embellishments can be a great way to add extra meaning to a memorial cross stitch project. You can incorporate beads or sequins to add sparkle or use a special stitch to create texture and interest. These small touches can make a big impact and create a truly unique and special piece.
Conclusion
Cross stitching is a beautiful and timeless art form, and creating a memorial cross stitch can be a wonderful way to honor and remember a loved one who has passed away. With so many patterns and customization options available, there's no limit to the unique and meaningful pieces you can create.