Lavender Embroidery Pattern
Are you a fan of floral designs? Do you love hand embroidery and DIY projects? Then you must check out the lavender embroidery pattern, a delightful digital PDF that will inspire you and help you unleash your creativity. In this article, we'll explore why lavender is such a popular embroidery motif, what makes this pattern special, and how you can use it to make beautiful art.
The appeal of lavender
Lavender is a captivating plant that has been prized for centuries for its fragrance, medicinal properties, and beauty. With its delicate lavender-blue flowers and long stalks, it's a beloved symbol of tranquility, happiness, and love. Lavender also has a rich history of use in art and crafts, including embroidery.
Embroidery is an art form that involves decorating fabric with needle and thread to create intricate patterns and designs. Embroidery can be used to decorate clothing, home décor, and accessories. Embroidery is a popular hobby because it's easy to learn, doesn't require many supplies, and can be done almost anywhere. Lavender embroidery patterns are especially popular due to the plant's versatility and allure.
Features of the lavender hand embroidery pattern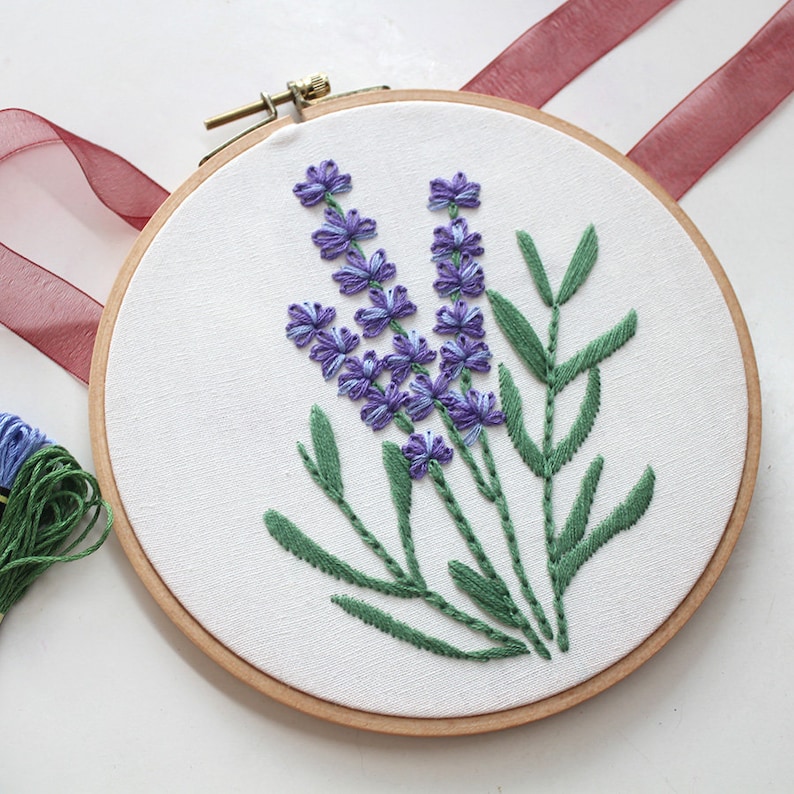 The lavender hand embroidery pattern is a beautiful digital PDF that features a stunning floral design. The pattern comes with detailed instructions and illustrations to help you create a work of art that you'll be proud to show off. The lavender embroidery pattern is perfect for beginners who want to learn the basics of embroidery, as well as more experienced embroiderers who are looking for a new challenge.
The lavender embroidery pattern includes a variety of stitches, including backstitch, satin stitch, and French knots. The pattern incorporates different shades of purple and green to create a realistic and soothing depiction of lavender. The lavender embroidery pattern is perfect for framing and hanging on the wall, as a gift for a loved one, or as a keepsake to cherish.
How to use the lavender embroidery pattern
There are many ways to incorporate the lavender embroidery pattern into your life and style. You can stitch the pattern onto clothing, such as a blouse, jacket, or scarf. Embroider the pattern on a tote bag, pillow, or table runner to add a touch of floral elegance. You can even use the pattern to create a lavender-themed embroidery hoop art.
The lavender embroidery pattern is a perfect choice for those who want to add a touch of nature to their home or wardrobe. The soft shades of purple and green blend well with a variety of colors, making it easy to create a cohesive and stylish look. You can also experiment with different fabrics and threads to create a unique and personalized lavender embroidery project.
Conclusion
In conclusion, the lavender embroidery pattern is a wonderful way to explore your creativity and passion for embroidery. Whether you're a beginner or an experienced embroiderer, this pattern will challenge and inspire you to create beautiful and meaningful works of art. So why wait? Get your hands on the lavender embroidery pattern today and let your imagination run wild!