Hand Embroidery Designs Simple
Hand embroidery is a beautiful art form that has been used for centuries to beautify clothing, home decor, and more. If you're looking to try your hand at embroidery, you might be intimidated by the complex designs you see in many online tutorials. However, there are plenty of simple hand embroidery designs that are perfect for beginners or those who just want a relaxing, low-stress project.
Why Choose Simple Hand Embroidery Designs?
There are many reasons why you might choose to try a simple hand embroidery design. Here are just a few:
1. They're Great for Beginners
If you're new to hand embroidery, starting with a simple design is a great idea. You'll be able to focus on learning the basic stitches without feeling overwhelmed by a complex pattern.
2. They're Relaxing
One of the benefits of embroidery is that it can be a very meditative activity. However, if you're working on a complex design, it can be hard to get in the zone. A simple design allows you to focus on the stitching and enjoy the process.
3. They're Fast
If you're short on time but still want a fun, creative activity, a simple hand embroidery design can be completed relatively quickly. Depending on the design, you might be able to finish it in just a few hours.
Simple Hand Embroidery Designs to Try
Ready to start stitching? Here are five simple hand embroidery designs to get you started:
1. Floral Wreath
This beautiful floral wreath design is perfect for beginners. The design features several types of flowers and leaves, but they're all created using simple stitches like backstitch, satin stitch, and French knots. The result is a lovely, delicate design that would look great on a wall hanging or tote bag.
2. Pillowcase Pattern
This simple pattern is perfect for decorating a pillowcase. The design features three connected diamonds with a floral motif inside each one. You can use any colors you like for this design, but we love the natural palette shown in the image above.
3. Beginner Lavender Pattern
This beginner lavender pattern is a great way to practice your satin stitches. The design features a simple stem with three lavender flowers and green leaves. The entire design can be completed using just two types of stitches: the satin stitch and the backstitch.
4. Free Floral Design
This free floral design from Dabbles & Babbles is a great example of how you can create a beautiful hand embroidery design using just a few simple stitches. The design features a large flower with leaves and a stem, all created using basic stitches like backstitch, French knots, and satin stitch.
5. Easy Satin Stitch Border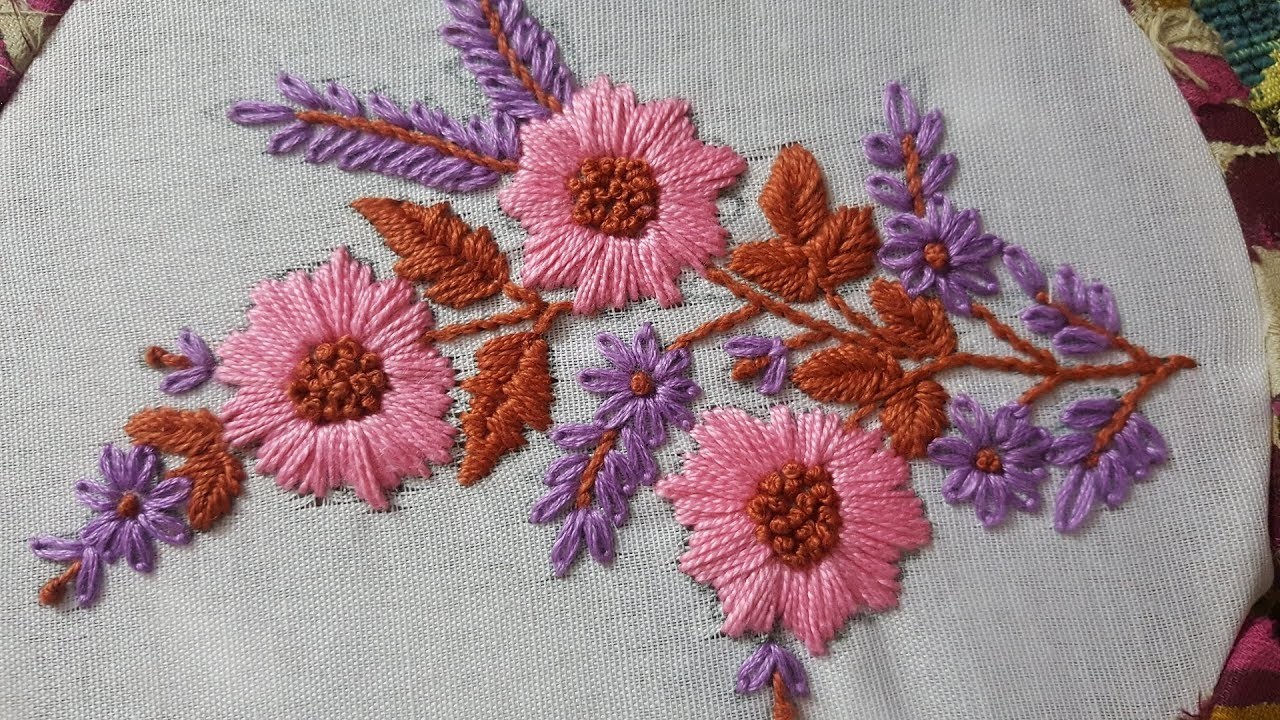 If you're looking for a quick and easy project, this satin stitch border design is a great choice. The design features a simple, repeating pattern that can be completed quickly using just the satin stitch.
Conclusion
Hand embroidery is a wonderful way to express your creativity and add a unique touch to your clothing, linens, and other home decor items. If you're new to embroidery, or just looking for a relaxing, low-stress project, try one of these simple hand embroidery designs. With just a few basic stitches, you can create something beautiful and unique.