Dinosaur Embroidery Designs
Embroidery has been a popular art form for centuries, and it continues to be a beloved hobby to this day. With the rise of embroidery machines, the possibilities for creating intricate designs have vastly expanded. One popular trend within the embroidery world is creating designs of different animals, including dinosaurs. Dinosaur embroidery designs are available in a variety of formats, including machine embroidery and hand embroidery. These designs offer a fun and unique way to add a touch of prehistoric charm to any project.
The Appeal of Dinosaur Embroidery Designs
Dinosaurs have always been a fascination for people of all ages. From children's toys to museum exhibits, the popularity of these prehistoric creatures has never waned. Incorporating dinosaur embroidery designs into projects offers a unique way to pay homage to these incredible beasts. The designs can be used on a variety of items, such as hats, shirts, and bags, to create a truly one-of-a-kind piece.
Embroidery enthusiasts also appreciate the detailed and intricate designs of dinosaur embroidery patterns. The textures and shapes of dinosaur skin and bones lend themselves naturally to the art of embroidery. The use of various stitching techniques and thread colors can accurately depict the textures and patterns found on dinosaurs, making the final product an impressive and striking work of art.
Dinosaur embroidery designs are also versatile in terms of the type of embroidery used. Whether hand embroidery or machine embroidery is preferred, there is a pattern available in the desired format. Hand embroidery provides an opportunity to showcase individual stitching skills, while machine embroidery offers the convenience of easily creating a design using an embroidery machine. Both types of embroidery can produce stunning results when using dinosaur designs.
Types of Dinosaur Embroidery Designs
1. Triceratops Embroidery Design
Triceratops is one of the most popular dinosaurs for embroidery designs. The three-horned dinosaur is a popular choice for children's clothing and accessories. The triceratops embroidery design can be depicted in various ways to create a striking work of art. Some designs feature a detailed head of the dinosaur, while others include the full body.
2. Baby Dinosaurs Embroidery Design Bundle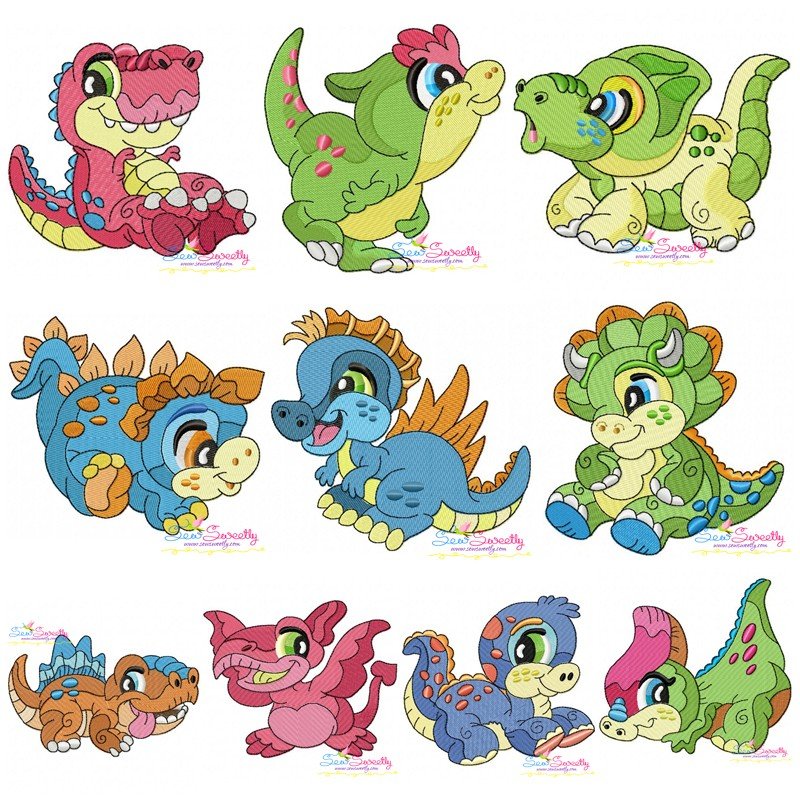 Baby dinosaurs are another popular option for embroidery designs. These cute and cuddly creatures make an adorable addition to any item, such as blankets and onesies. A set of baby dinosaur embroidery designs is available, featuring designs of different dinos such as a Pterodactyl, Stegosaurus, and Tyrannosaurus Rex.
3. Dinosaur Applique Embroidery Design Pack
These dinosaur applique embroidery designs offer a unique way to add a 3D element to any project. The designs are created in individual pieces, allowing the buyer to layer and stitch together the pieces to create the final product. The set includes 2 size packs and features designs of different dinosaurs, such as the Triceratops and Velociraptor.
Where to Find Dinosaur Embroidery Designs
Dinosaur embroidery designs can be found in a variety of places. Online marketplaces such as Etsy and Amazon offer a vast selection of designs created by independent artists. Embroidery supply stores and manufacturers offer a variety of designs as well, often providing detailed instructions and tutorials on how to create the designs effectively.
Final Thoughts
Dinosaur embroidery designs offer an exciting and unique way to add prehistoric charm to any project. These intricate designs can be created using a variety of techniques including machine embroidery and hand embroidery. Whether creating a gift for a dinosaur lover or adding some personality to a personal item, dinosaur embroidery designs are sure to impress.