Cat Cross Stitch Patterns
Are you a cat lover who also loves to cross stitch? If so, you're in luck! We've found an incredible collection of cat cross stitch patterns that will have you jumping for joy. These patterns are not only adorable, but they're also free! Yes, that's right - free! So, grab your needles and thread and let's get started.
Pattern 1: Cross Stitch Green Eyed Cat Free Pattern
The first pattern we found is a beautiful green-eyed cat cross stitch. This design is perfect for anyone who loves cats and wants to add a little feline flair to their home decor. The pattern is easy to follow and includes detailed instructions, making it a great project for both beginners and experienced cross stitchers.
Not only is this pattern cute and easy to follow, but it's also free! You can download it from the website and start stitching right away. We love the details in the cat's fur and the bright green eyes that really make the design pop.
Pattern 2: Patchwork Cat Cross Stitch Pattern
If you're looking for a cat cross stitch that's a little more playful, we've found just the pattern for you. The Patchwork Cat cross stitch is a fun and whimsical design that would be perfect for a child's room or a cozy corner of your home.
This pattern is available for download on Etsy and is an instant PDF download, so you can start stitching right away. The design features a colorful cat with a patchwork body and bright green eyes. We love how the different patterns and colors all come together to make such a fun and playful design.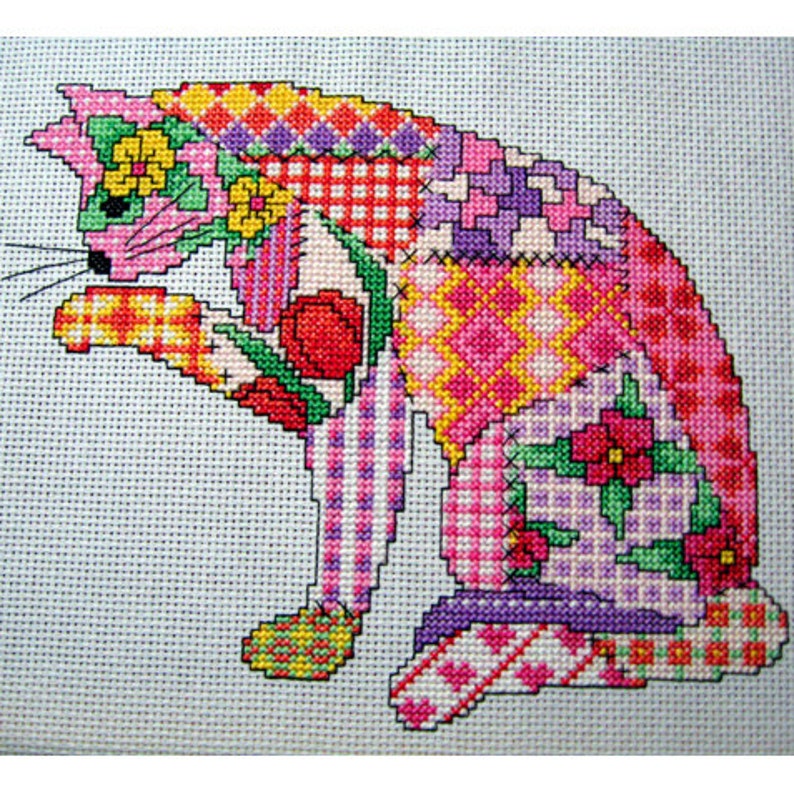 Pattern 3: Free Cross Stitch Pattern Moon Cat
If you're a fan of all things celestial, you'll want to check out the Moon Cat cross stitch pattern. This free pattern features a cute black cat sitting on a crescent moon, surrounded by stars.
The design is relatively simple, making it a great pattern for beginners who are just starting out with cross stitching. However, even though it's simple, it's still incredibly beautiful and would look great on a throw pillow, framed on a wall, or even as a patch on a denim jacket.
Pattern 4: Geometric Cat Cross Stitch Patterns
If you're looking for something a little more modern, you might want to try one of the Geometric Cat cross stitch patterns from the Do Small Things with Great Love website. These patterns feature stylized feline designs that are unique and eye-catching.
One of the things we love about these patterns is how versatile they are. You can stitch them with traditional colors, or you can get creative with your color choices and make them truly unique. Plus, since there are multiple patterns to choose from, you can create an entire collection of geometric cats to display in your home.
Pattern 5: Cats and Kittens Cross Stitch Patterns
Last but not least, we have the Cats and Kittens cross stitch patterns from Needle-Works Butterfly. This collection features a variety of cute and cuddly cats and kittens that are sure to warm your heart.
One of our favorite patterns from this collection features a sweet calico kitten curled up in a basket. The design is simple but incredibly charming, making it a great project for anyone who loves cats.
Conclusion
There you have it, five incredible cat cross stitch patterns that are sure to put a smile on your face. Whether you're a seasoned cross stitcher or a newbie, these patterns are a great way to hone your skills and create something beautiful. So, grab your needle and thread, and get stitching!