Angel Cross Stitch Patterns
Angel cross stitch patterns are a wonderful way to add a touch of grace to your holiday decor. From intricate designs to simple patterns, there is something for every skill level. Whether you're looking to add a handmade touch to your tree or create a heartfelt gift for a loved one, angel cross stitch patterns are a beautiful choice.
Why Choose Angel Cross Stitch Patterns?
There are many reasons to choose angel cross stitch patterns for your next project. For starters, angels are a timeless symbol of innocence, purity, and protection. They are often associated with the holiday season, making them the perfect choice for a festive project. Additionally, cross stitch is a relaxing and meditative hobby that can help you unwind after a long day or de-stress during a busy season.
Choosing the Right Pattern
When it comes to choosing an angel cross stitch pattern, there are a few things to keep in mind. First, consider your skill level. If you're a beginner, you may want to start with a simple design that uses just a few colors. On the other hand, if you're an experienced stitcher, you may be ready for a more challenging pattern with intricate details and shading.
Another thing to consider is the type of project you want to create. For example, if you're looking to make a small ornament or gift tag, you'll want to choose a pattern that is small and easy to stitch. On the other hand, if you're looking to create a larger piece for your home, you may want to choose a more detailed pattern that will take longer to complete.
Popular Angel Cross Stitch Patterns
There are countless angel cross stitch patterns to choose from, but here are a few popular options:
Christmas Angel
This free cross stitch pattern features a beautiful angel with soft, flowing robes and delicate wings. The pattern uses just a few colors, making it a great option for beginners or those looking for a quick project.
Mistletoe Angel
If you're looking for a festive pattern to stitch during the holiday season, this mistletoe angel is a great pick. The pattern features a lovely angel holding a sprig of mistletoe, perfect for hanging on your tree or giving as a gift.
Angel of Elegance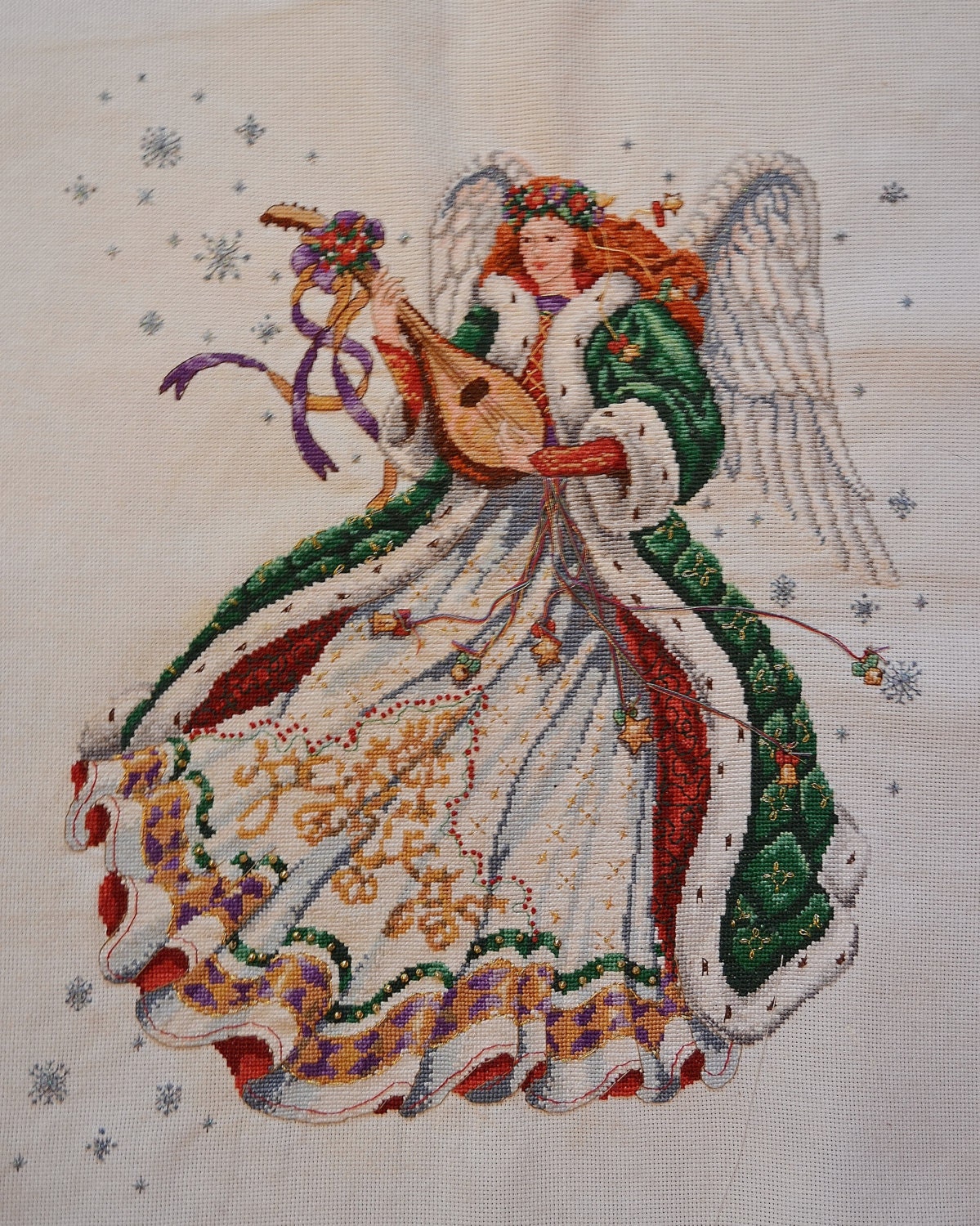 This stunning pattern features a regal angel with ornate robes and intricate details. The pattern is quite intricate, making it a great choice for experienced stitchers or those looking for a more involved project.
Tips for Successful Stitching
Whether you're a seasoned stitcher or just getting started, here are a few tips to help you create a beautiful finished product:
Use Quality Supplies
Investing in high-quality thread, fabric, and needles can make all the difference when it comes to stitching. Not only will your finished product look better, but stitching with good supplies can make the process easier and more enjoyable.
Take Breaks
Cross stitch is a relaxing hobby, but it can still be hard on your eyes and hands if you stitch for too long. Taking frequent breaks can help you avoid eye strain and hand fatigue, and can also give you a fresh perspective on your project.
Follow the Pattern Carefully
While it can be tempting to take shortcuts or make changes to a pattern, following it carefully will ensure that your finished product looks its best. Take your time, read the instructions thoroughly, and enlist the help of a friend if needed.
The Joy of Handmade Decor
There's something special about decorating your home with items that you've made by hand. Not only are these items unique and personal, but they also serve as a reminder of the time, effort, and love that went into creating them. By choosing an angel cross stitch pattern for your next project, you'll be able to add a touch of grace and beauty to your home, and create a lasting memory that you can cherish for years to come.